Unique Graphic T-Shirts and Designs for Tall People
At Tall Reali-tees, our mission is to celebrate the uniqueness of being tall.  With our tees, mugs, and other fun products, we provide tall women and men a way to show off pride in their height. Whether you're looking for a gift for yourself or for a tall family member or friend, you're sure to find something one-of-a-kind here at our online shop. We hope you enjoy our unique graphic t-shirt designs and products that are relatable, inspiring, and at times, even hilarious.
Celebrate your tall life with Tall Reali-tees!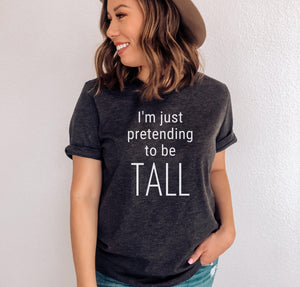 Featured Item: I'm Just Pretending To Be Tall T-Shirt
You may look tall to others, but really you're just pretending, right?  With the phrase "I'm just pretending to be TALL" front and center, this funny and clever text-based design is sure to get you some laughs as the strangers look your way!
Each one of our tees come in a wonderfully soft material and longer length for a super comfortable fit for both tall men and women. 
GET THIS TEE!
Where Do We Get Our Inspiration?
From simply living the tall life! We get called nicknames. We get asked the typical "do you play basketball" questions. We get the "wow, you're tall" comments. And, the double-takes. And, the stares.
We also can't fit into bathtubs or airplanes or small cars. Our height constantly gets called into question. And, we have a hard time finding clothes that fit.
At Tall Reali-tees, we get it because we live it. We base our unique graphic t-shirt designs on things that are relatable to anyone who is tall. We take the positive and make them stand out. We take the negative and give them a funny twist.
As you know, being tall comes with a lot of attention on its own. By wearing one of our tees or using one of our other products, the attention turns into a kind of respect. People will notice that you are confident in who you are. You know you're tall, and you're not afraid to point it out and show it off!
Take a look through our designs and you're sure to find plenty that will make you say, "Yep, I get it...that's my tall reality!"
VIEW COLLECTION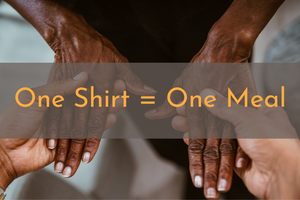 Giving Back
With each order you make at Tall Reali-tees, you will be a part of something truly meaningful. We want everyone, tall or not, to be able to truly shine in the bodies they've been given. Unfortunately, there are many who are hungry and malnourished.
We pledge that for every unique graphic t-shirt (or other product) you purchase, we will provide a meal to someone in need.  You will help have an impact on the fight against world hunger and give hope to those less fortunate.
Thank you for your purchases and, in turn, for helping us in this cause!